Popcorn Business starting guide – Know total investment,license and raw materials.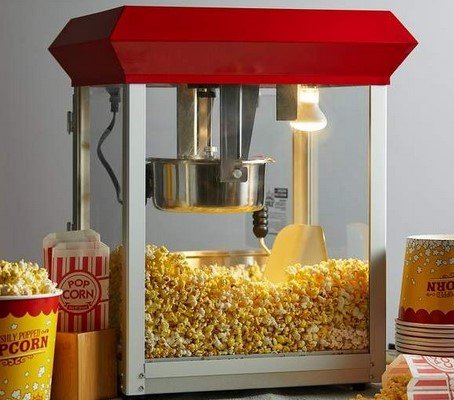 Popcorn,the name is familiar not only in India but also in most countries, from children to adults. Yes, we are talking about the same Popcorn snack which is quite prevalent among people of all age groups. Most people like to enjoy it while watching a movie, watching a stage show, or during any other event. However, children sit down only by holding the stubbornness of eating it. Popcorn is delicious and easy to digest. No matter how much you eat, it does not adversely affect health as it is digested very quickly. So often parents also meet their children's stubbornness by giving Popcorn packs. The demand is always there in the market, so in view of these demands of the people, any entrepreneur can start manufacturing Popcorn Business with very little investment. Today, we will try to find out all these things in our article, however one can move towards entrepreneurship and start a Popcorn Manufacturing Business.
Popcorn Business Opportunity
This business can be started very comfortably in urban areas as well as in rural areas. For this, you don't need a particular place or more money. You can also put a popcorn machine on a ready-made handcart. You can also buy packing machines to sell in a slightly more artistic way if you want. However if the cost is to reduce the money, then this work can be done by hand too.
What is Popcorn
Popcorn is generally used as a snack item. It is a converted form of corn in which the hard corn grains are heated and inflated, and these inflated corn grains are called Popcorn. The intention is to say that by heating the hard corn grains, popcorn is achieved. Therefore, stoves and pan are used to make popcorn in rural areas while machines are used to produce it industrially. But their quality depends on the special variety of maize as high quality popcorn cannot be produced from every type of maize. Therefore, for the success of this Popcorn Manufacturing business, it is necessary to select a proper type of maize.
Popcorn Business USP that grow business
There are number of good reasons and selling points.Popcorn is easy to digest,very tasty and popular snack item. This is why, Popcorn is becoming popular among customers. Since customers are growing, its manufacturers are also growing in India. In cities, its usage is increasing rapidly as the number of multiplexes in the country is increasing. With the potential for sales, people are keen to start the business. With a good profit margin in this business, it can be beneficial for anyone to start a Popcorn Manufacturing Business from the point of earnings.
Where Popcorn Business can be started ?
If you want to start this business in your village area itself, you will need a ready wheelbarrow and then you have to fit the machine on it. Then you will take the raw material.You can sell the packet in the village for ₹5 to ₹10 by making the raw material popcorn in it and packing it through that machine.
The other way is that if you live in village or a city, you can start a popcorn making company. You can do it there, but you have to invest a little bit more because if you are doing this business in the city in a big way, then you will be required good machinery and packaging material.
If you are starting a business in a village area, you don't need to get any kind of license in it, but if you are starting this business in a big way, you will have to invest more money in it and you will also have to take a license.
Also read : How to Start Flour Mill Business,Atta Chakki
Licenses & Registration required for Popcorn Business
However, keeping in view the local market at a very small scale, it does not require any other than license from the local authority to start the Popcorn Manufacturing Business. But later on, tax registration, etc., may be required as the earnings increase. In addition, if the entrepreneur wants to sell his product by creating his own brand from the beginning, he may need the following types of licenses and registrations.
An entrepreneur may have to register his business with the Registrar of Companies. Know how to start your business or company in India .The entrepreneur may also have to register his business under the Factories Act. For this, an entrepreneur can take the help of a business consultant.
The industry base may have to register its business under micro and medium enterprises.
Since it is a food-related business, the entrepreneur has to get a food license (

FSSAI

). So that during packaging he can mark that number in a packet of popcorn.
The entrepreneur will need trademark registration by his brand name.
Entrepreneurs doing Popcorn Manufacturing Business will also need GST registration .You can visit GST portal of India
Machinery & Raw Materials required for Popcorn Business:
At least 450 Square Feet i.e. 50 yards will be suitable for starting a small-scale Popcorn Manufacturing Business in the early stages. However, an entrepreneur may have to arrange different places to do different things according to the working of his business. The entrepreneur may need one or two persons who can handle the operation of the machine,electricity and water supply. In addition, the entrepreneur may also need a vehicle, driver and marketing executive to reach out to customers and shopkeepers of goods produced from their business.
As far as popcorn making machine is concerned, different types of popcorn making machines are available in the market. It also has machines that can be run using LPG gas. The entrepreneur should choose the machine for the same keeping in mind the production capacity of the machine and the resources available to them. Also, when selecting Popcorn machine, it has to be kept in mind which machine can inflate corn grains. If the entrepreneur wants the machine to show the demo to the seller. In addition to the machine, the entrepreneur may also need a load weighing machine to weigh popcorn. However, some companies like Prestige, etc., have made Popcorn Maker to make popcorn domestically.
Some people add butter and salt to household utensils like pan, pickle, etc.But it is a little difficult to say how safe it is to sell such popcorn commercially. As far as the raw material used in this business is concerned, India is a very big country producing maize and not just popcorn is made from maize. Maize is also used to make oil, flour, starch, liquid glucose, etc. The intention is to say that maize is produced in almost every state of the country, so the raw material for popcorn manufacturing business is easily available in every sector. Apart from corn grains, ghee and salt are also used as raw materials.
Popcorn machine cost
 Different Type Of Popcorn Making Machine Available Available in the market.You can select the machine according to your Quality and Quantity. These machines are also known as popcorn maker.
You will get Popcorn Machine from 18,000 to ₹20,000. You will need a sealing machine to packing popcorn. If you don't have the experience of popcorn making business, you can start Small Scale Popcorn Making Business.
Popcorn Manufacturing Process
The process of making popcorn through Popcorn Machine is very easy.if the entrepreneur buys direct maize from the farmers, he can benefit more. For this, the entrepreneur must first separate the corn grains from maize and then dry them well in the sun. When these grains dry, these corn kernels remove impurities such as corn hair, etc. And then ghee and salt are added to the heating section of the machine.
Next the corn kernels are poured so that the grains are converted into popcorn due to heat. The machine does everything possible to produce popcorn well and when the popcorn is ready. The entrepreneur has to do moisture resistant packaging of Popcorn so that the quality of popcorn is not adversely affected when it reaches the customers.
What is the profit margin ?
A crowded place is a big market for this business. If there is a sightseeing area in your area, target customers will be found there. The profit in this business depends on your hard work, although an average guess, you can earn 20,000 to 30,000 rupees a month comfortably.
Hope this article will help you to start popcorn business easily in your area.If you require more information or help you can comment below.
More business ideas :
How To Start Rabbit Farming Business
How To Start Velvet Pencil Making Business