Medicine Marketing Business – Investment.profit,how to start at initial stage.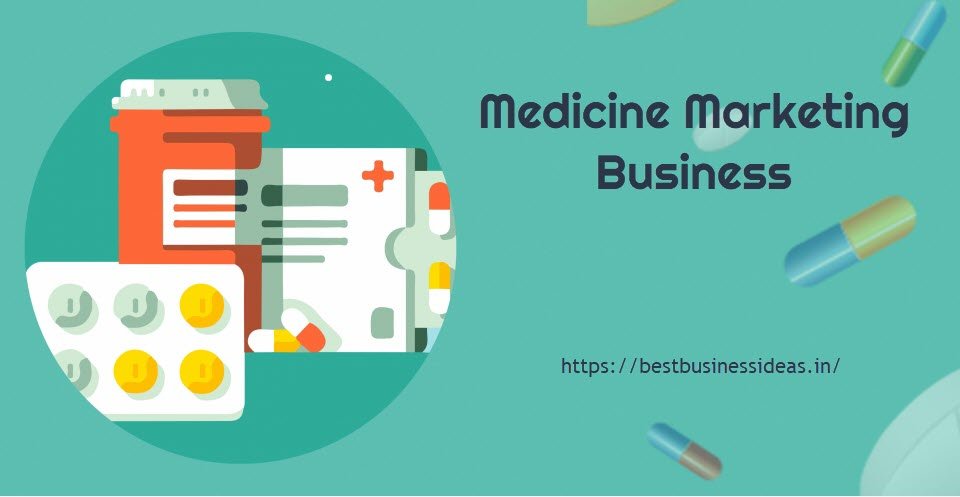 When you go to a doctor for treatment, you can see some of the medical representatives (MR) who waits for the doctor. They want to promote the particular medicines with whom they tie up.Medical representatives from a pharma company, such as Ranbaxy, Cipla, etc. Doctor prescribes their medicines to the patient,finally the patient demands them at the claim shop and in this way these medicines are sold.If you are interested to start medicine franchise rather than being an Medical representative, it is also an great alternative.We have earlier discussed India's two leading company franchise which are 1 mg franchise and Davaindia pharmacy Franchise.
Medicine Marketing Business Opportunity
So, basically in the work of medicine marketing, you have to promote your selected medicines in the market so that they can get maximum sales. The intial work of promoting is done by meeting the primary doctors and convincing them to prescribe those medicines.
Generally MR working in medicine marketing is appointed by pharmaceutical companies, but you can do this without becoming an employee of any company. 
There are two ways of marketing drugs:
First: You register in a company and start marketing medicines under them. In this method, you can either manufacture medicines yourself or buy medicines from pharmaceutical companies and do marketing in your company name.
Example: Mankind Pharma is primarily a medicine marketing company. They seldom make medicines, mostly they manufacture from someone else and market the medicine in their own name. If you buy a strip of medicine of this company, then it will be written- Marketed by – Mankind Pharma but there will be someone else's name in Manufactured by.
Second: You market the product of another company without forming a company.
The second way is a little straight forward and if you do not have much potential in the pharmaceutical industry, then this is the recommended way to start. Let us know about this in detail:
Steps to start Medicine Marketing Business Without Registering a Company
Step 1: Understand the drug market of your city:
Drug marketing is not so easy. If you do not have experience in the pharma industry and you start this work then there is very less chance of success. So it is better that you understand this work and overall market of medicine. Know the industry before investing your time and money in this work. For this you can also work as a Medical Representative in any pharma company. (For MR work you should be preferably science graduate, salary can be 15-30 thousand + incentives. You should have basic English knowledge to read English and speak even better)
By entering in the market, you will be able to know which types of medicines sell more. Meet with doctors and chemists to know which medicines you can make a part of your marketing portfolio.So do not start this work in a hurry, only after understanding things, join hands in it.
Step 2: Select the medicines to be marketed:
In the beginning, you should choose 4-5 medicines and just market them. If you start marketing a lot of medicines at once, then it will be difficult to manage, so start small.In this step, you should also decide which manufacturer is good while order these medicines.
Step 3: Manage the money:
To start this work you will have to carry many expenses:
Bulk Drug Manufacturing From Manufacturing Company
Doctors prescribe your medicine to entertain them (this is also a big expense)
Giving free samples
Taking diary, leaflets, gifts etc. for distribution
Travel cast
Salary, if you are employed
Office expense, if you open an office. Most people start this work from home.
If you keep a rough estimate, you should have Rs 3-4 lakh for all these works.
Step 4 : Build a team
If you can hire some experienced person with you as a partner or employee then it would be good. However, it will also depend on your budget. Most people start off alone and recruit a few MRs once work increases. If you want to work alone then you ignore this step.
Step 5 : Order medicines
You have to understand a little. No person can ask for such medicine from a company to do business. You have to meet a stockist or wholesaler for this work.Since you are doing this work as an individual, you will have to contact a stockist or wholesaler of the manufacturer.
Let's take an example:
If you are working as an individual in Delhi and you have to purchase medicine from ABC medicine manufacturer based in Himachal Pradesh (HP) then you have to do these things:
You have to find the stockist of ABC company and let them know your requirements.
You have to place your order by contacting ABC wholesaler and deposit money in return.
ABC will ship to stockist
You will collect medicines from stockists
Stockists will have to pay VAT on your goods, so they will charge you VAT + some more money to provide this facility.
Suppose the goods you ordered from ABC wholesaler was for 100 rupees. But MRP of that entire consignment was added up then it was 1000 rupees, then you have to pay about 10% of MRP to the stockist, i.e 100 rupees.
This is because the stockist has to pay 5% of MRP to the government as Vat (tax) and he wants some benefit of his own, so approximately you have to pay 10%.
Do not be surprised to see the MRP of Rs. 1000 for goods of Rs. 100, because the margin in the pharmaceutical business is very high. For instance, a tablet of branded energy supplements is made for Rs 1 to 2 and is sold for Rs 9-10. 🙂
Step 6 : Start marketing these drugs now
After getting the medicine, you have to do the marketing work.Reach to the doctors to prescribe your medicine to the people. For this, you have to use some marketing tools –
Prepare a folder which contains your medicines
Keep medicine leaflets
Keep free samples
Keep reminder card
Reminder card: On this card a request to write your medicine to patients is written. Make sure to use this card, you cannot meet the doctor every day, but if you make sure that these cards are present at the doctor's desk, your chances of prescribing your medicine are increased.
How much can be earned from this business?
It depends on many things, no specific number can be given, but if you talk average, then if you take 1 lakh goods from the manufacturer and it is completely sold, then you earn 60-70 thousand.
How profit is calculated ?
Suppose you ordered a medicine that the manufacture gave you @ per strip = Rs. 10
The MRP written on that strip is: Rs. 70
Trade Rate = Rs. 56 (It is usually 20% less than MRP, at the same rate you give the medicine to the chemist)
The wholesaler through which you ordered the medicine will have to be given to him = Rs. 7 (10% of MRP)
You spend on Doctor * = Rs. 24.5 (35% of MRP)
Other expense: Rs. 7 ( 10% of MRP)
Now let's see where the money came from and where it went:
Money came: Rs. 56 The price at which we gave the medicine to the chemist
Money  Gone : Rs. 10 to Manufacturer, Rs. 7 to Wholesaler, Rs. 24.5 to Doctor, Remaining Expenses to Rs. 7, i.e. Total spent (10+7+24.5+7=48.5)
The profit is = 56-48.5 = 7.5 rupees.
It means you had taken a medicine leaf for Rs 10 and earned Rs 7.5 on it.
Meaning if you take 1 lakh of goods and sell it completely, you can earn 75 thousand rupees on it.
Note: This is just an example, this cannot be generalized. Profit in reality can be less than this and more, it depends on what kind of medicines you are selling, in what volume and how much is the margin.
Some other important points:
Do not run after to big doctors initially, work on small doctors located at some distance from the city.
This is a credit business, you do not get money as soon as you deliver the goods. Therefore, keep a record properly. At what date, how much merchandise was given and how much money has been collected, they should all be accounted for correctly.
Be patient to succeed. The doctor who makes you wait for hours in the beginning can give business worth millions later.
Interpersonal skills are very important in this work, so if you lack in them, then improve yourself.
Provide good and timely service to your stakeholders (doctors, chemists, etc.).
In this way, you will just have to pay income tax on the income earned by working, while if you do this work by forming a company, you will have to pay many more taxes and many records will also have to be maintained.
Hopefully the information given here will be useful for you and will be helpful in starting Medicine Business. Thank you!