Patanjali Paridhan Franchise – Investment,contact number and how to start Distributorship – Complete Guide.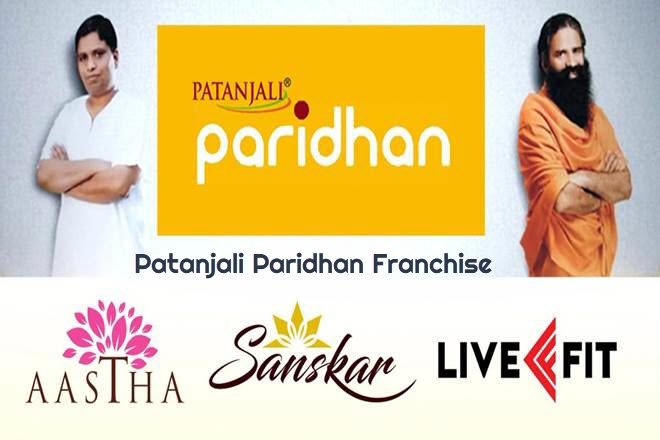 Yoga Guru Baba Ram Dev is such a person, who not only revived centuries old Indian Yoga in India, but he also recognized it abroad. It is true that yoga is a centuries-old tradition of India, but people had forgotten it.Baba Ramdev organized many camps from India to abroad and explained its importance to the people.He established a separate identity of his own. Earlier we discussed about 1mg franchise in pharmacy sector and Baba Ramdev Ji also launched Ayurvedic medicines and health related products under his brand name Patanjali Ayurved.
This journey of Baba Ramdev FMCG products, leaving behind many domestic and foreign companies. Now Baba ji has added one more thing under his brand Patanjali, that is clothes.Babaji has launched indigenous clothing for women, men and children with his new name Patanjali Apparel. Now it has to be seen that how successful this new launch is.If you are interested to be part of Patanjali Paridhan Franchise , you can apply online.
What is Patanjali Apparel ?
Baba Ramdev once again called upon the people to adopt Swadeshi. This time the sector is garment sector.The first store of Patanjali Apparel has opened in the Indian capital Delhi. Under this brand, he has launched sportswear along with jeans t-shirt. The new launch of Patanjali will have three brand names, namely, Aastha, Sanskar and Livefeet. Apparel for women, men and sports related will be sold respectively. In its new branded showroom, Babaji has included a wide range of clothes, which will include everything from yoga wear to any special occasion. The most important thing is that, the clothes of this indigenous brand will be very cheap. The entire earnings from its sales will remain in the country.
Patanjali put his footsteps in this new sector on the day of Dhanteras in 2018, just two days before Lakshmi Pujan. If we talk about the day and date, then this day was November 5, 2018, Monday. The first store of Patanjali's new launch has been opened in Delhi and after this, the company aims to open around 500 stores across the country by the coming year.
Patanjali Paridhan Franchise
How to Get Patanjali Garment Franchise ?
It is very easy to take a franchise of Patanjali Apparel against any other foreign company. You can take Patanjali franchise only through a mail or phone. But you have to follow certain conditions to get its franchise. If you fulfill all the conditions of Patanjali, then you can apply for it anytime.
For franchisee of Patanjali Apparel, you have to mail to the following mail id (Email Id) – enquiry@patanjaliparidhan.org
You can also take franchisees by dialing some phone numbers in Patanjali Paridhan Men.
Patanjali Garments (Contact Number) – 7302315017, 7302315131, 7302315129
Terms and conditions to open Patanjali apparel franchisee
The following are the conditions applied while taking a franchise of Patanjali Apparel –
According Patanjali, if you have experience in the field of clothes or related field, you will be given priority.
Apart from this, the most vital part is location selection. If you want to take a franchisee and open a store in your city, you require atleast 2000 square feet area.The front area of your place should be 20 feet, with a height of at least 10 feet and its mandatory.
If you want, you can start this business on lease land, but if the land is your own, then you will get priority.
It is mandatory for the store to be at a mall, commercial complex or a market place.
Investment for Patanjali Paridhan Franchise
According to official demand, it may cost you 1 crore or more for its franchisee. In this 1 crore, you have to spend 35 lakhs to build your store, you will have to spend about 75 lakhs on the first stock in your store. Apart from the clothes of Patanjali apparel, it will also include various accessories and ornaments. In this way, you can start this business.
Profit margin of Patanjali Paridhan Franchise
You can earn a margin of about 30 percent from this store. If we calculate in this way, you can benefit up to 30 lakhs in a year. Therefore,you can earn up to 2 lakh 50 thousand in a month, which is a great profit figure.
Conclusion :
The new initiative of Yoga Guru will promote the use of indigenous goods. This new initiative of Patanjali will not only benefit one institution, but now the youth will also get new employment opportunities through it. This new initiative of Baba Ramdev was condemned by many people, but it is not easy to wave your glory in many areas in just a few years. Baba Ramdev not only established his own brand but its now India's most favorite brand. Many small and big industries were also encouraged by this brand.No doubt the Patanjali will be successful in garment sector
More popular franchise for sale :