Geetanjali Salon Franchise – Cost,contact number,location and how to start guide.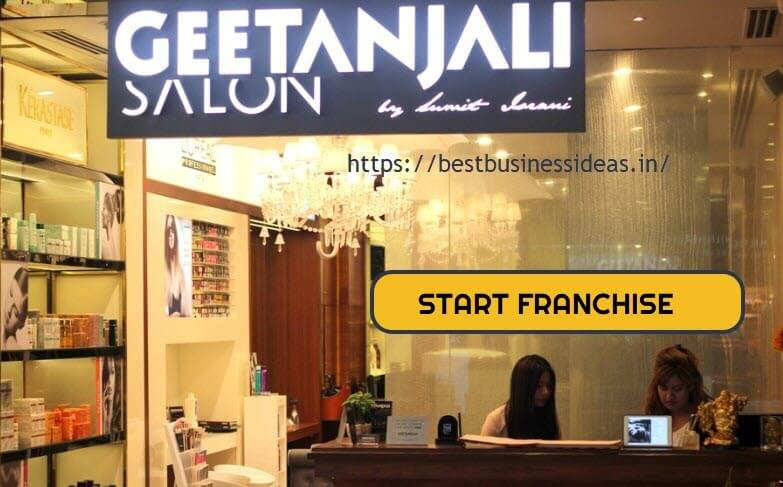 About brand : Geetanjali Salon was founded in 1989 by Mr. Prem Israni and Mrs. Neetu Israni for offering world class salon experience to their clients.The salon hires only industries top professionally trained stuff and creative people.If you have the talent you can join in their salon and work under them.Today in India they have more than 100+ outlets which mainly aim to provide best salon experience ever.From celebrity to normal individual all get their service at very reasonable price.If you are passionate about salon service and products you can start Geetanjali Salon Franchise in your city.It is really a good investment with leading brand,you get maximum profit and support.
Geetanjali Salon Franchise Opportunity
Salon Franchise Benefits
Salon stuff is well trained and people love to visit repeteadly.You earn good commission.
Required low investment to start the salon
Innovative hair styling and creative ideas boost your performance automatically.
Design for all festivals makeup and special moment
Company provide all traning to their stuff
Territorial rights ensures exclusive revenue earning and commission percentage.
Tailored made service offered
Franchise expansion locations
The company decides and modify new outlet requirement time to time.They welcome frest outlet partner from different part of India.
West – Maharashtra
North – Available
South – Andhra Pradesh
Central part – Available
East – Available
Union territories – Available
Property requirement
For starting Geetanjali salon franchise you need to show commercial property.They don't accept domestic are right now,as the business model does not support this type property are due lack of service.The area size should be 1000 – 2000  Sq.ft
Investment / cost to start salon
You have to pay franchise fee,brand royalty fee and security deposit amount.The total investment is approximate 15-20 lacks depending on locations and salon services offered.
Who provides training?
All franchise operating training provided manually from the official team.The field assistant visits the premises and provide training to the stuff.Besides this,other franchise support are available from head office.Other IT support also provided and include in the franchise model.
Agreement & franchise terms
As long as you have commercial property,you are eligible to be part of Geetanjali salon.The standard agreement period is 3 to 5 years.But later you can renew the franchise period at company sole discretion.
How to apply for franchise
You can apply for their salon franchise online.This is very quick and easy process.The franchise form is available on their website.You can directly visit https://geetanjalisalon.com/contact/
There on right sidebar a short form is available. Fill up with your basic details and enter query in message box. Alternatively,you can reach them via email only for franchise enquiry – franchise@geetanjalisalon.com
If both above ways do not work,you can call them directly regarding partnership.They will answer all your questions.The contact number is 91-11-40597172 / +91-11-40568611
Geetanjali Salon website : https://geetanjalisalon.com/
Office address : B 6/23, Safdarjung Enclave, Above The Pianoman Jazz Club New Delhi – 110029
Customer care : customercare@geetanjalisalon.com