Flour Mill Business starting guide – know total cost , machinery, business registration steps.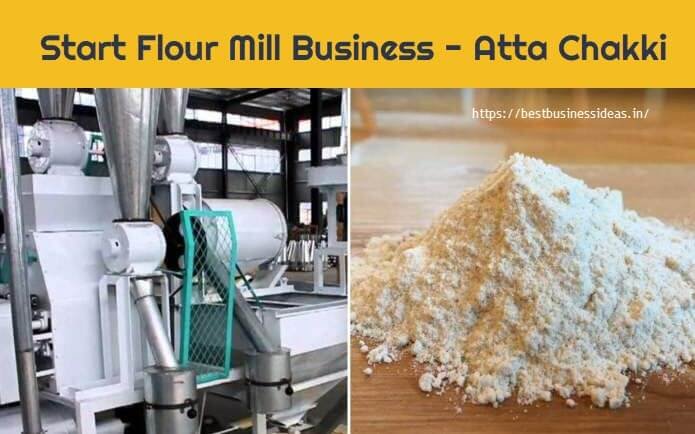 Flour Mill Business Opportunity
Atta Chakki Business or Flour Mill Business is one of the most basic and essential ingredients especially in a country like India where Rotis, chapattis, phulka and parathas are part of daily staple diet. Wheat (ata) or any other type of flour including Maida, Bajri, Jowar, Ragi is used as flour for making parathas and rotis. Additionally, flour is also used to make fast food items such as pizza bases, buns for burgers, pasta, donuts, bread, biscuits, noodles, etc.
Thus flour is always needed as a commodity whether it is for domestic use or for restaurants and fast food, so flour mill business is a very good business and it is an evergreen business with no season. This business can be done with a little investment, so if anyone wants to do a flour mill business, we will tell you in detail step by step.Still have some fear starting business for first time ? learn How to Start Business in India,6 Easy Steps.
Types of Atta Chakki Business
Flour mill business can be done in two ways; both types require different investment and different land like :
Basic Mill : This type of business provides milling or milling facilities. Customers will bring their own grains, you will give them milling or grinding of the grains, there is neither much investment nor much land inside such business. Business can be started within a short time and with less manpower.
Flour Mill : This business category is different and you need good investment capability. Inside this business, grain is brought, then it is cleaned and mashed by big machine.Later flour sent to packing room for well packaging.The product is sold under the name of a brand. Today there are many flour companies within the market such as Ashirwad, Patanjali, etc. In the same way flour is sold in the name of a company, but more business can be done with it like; Rice mill, suji mill etc. Each business product requires proper license and investment from the State Govt or local panchayet.
Investment for Flour Mill Business
Investment For Atta Chakki Business If you talk about investment inside flour mill business, then investment depends on business and above ground, as if the land is own, then a lot of money will be saved and if you have to buy a lot of investment It will fall and secondly, business will have to invest separately in both types of business, which has to be spent separately within both types of business like above;
Basic mill set up cost
Land Cost: – Rs.2 Lakhs To 3 Lakhs (This money will not be saved if the land is own)
Machine Cost: – Rs. 30,000 To Rs. 50,000 (It has different price according to manual machine, Semi Automatic, Fully Automatic)
Other Cost: – Rs. 30,000 To Rs. 40,000
Total Investment : – Around Rs. 50,000 To 1 Lakh (if the land is own)
Flour mill set up cost
Land Cost: – Rs.10 Lakhs To 15 Lakhs (If the land is own, then this money will not be saved).
Machine Cost: – Rs.5 Lakhs To 10 Lakhs (It has different price according to manual machine, Semi Automatic, Fully Automatic)
Registration & License Cost: – Rs. 10,000 To Rs. 30,000
Staff: – Rs. 30,000 To Rs. 60,000
Other Cost: – Rs. 50,000 To Rs.1 Lakh
Read : 37 Powerful Best Business Ideas in India
How much space is required ?
If you have good place at home, then Basic Mill can be started at home.You just need to purchase the small machine and install it in your place.Customers they will bring their grains and you only charge for mashing the grains.It is sufficient if you have 200 Square Feet To 300 Square Feet area.
Floor mill business : This business requires a lot of land because a lot of machines have to be installed in it and after that there is a need for space for grain stock and office is also required for daily auditing.
As the business is large and you need more Space: 2000 Square Feet To 3000 Square Feet area.
License required for Atta Chakki Business
Generally no license is required when you run a small Atta Chakki Business.However, if you run a floor mill in the name of a company, then license has to be taken from the particular department.Below you can find the mandatory licenses which you need to obtain.
Business Entity : – Any business has to register to start as a brand because if there is no Business Entity then it is very difficult to do business.
FSSAI registration: – Flour mill business or flour mill business is a food business and for all food business it is necessary to get Food Safety and Standards Authority of India (FSSAI) registration and get its certificate.
Shop Act or Trade License
Udyog Aadhaar Registration
GST Registration
Other things like NOC required for flour mill business
Things required for flour mill business
Many Equipment and Essentials Required for a Floor Mill or Atta Chakki Business. according to the business you need to ensure the following facilities and equipment :
Transportation facility
Electricity
Water
Semi-skilled manpower
Rotary separator with aspiration channel
Scourer machine with aspiration channel
Intensive dampener
Rotameter
De-stoner
Indent cylinder
Screw conveyor
Drainage facility
A minimum area of ​​3000 sq ft
Magnate
Silogate
Roller Mill body
Roll Grooving & spindle cutting
Purifier
Bucket elevator
Reel machine (3 segments)
V-Groove, Pulleys, Couplings, V-Belts etc.
Weighing scale
Dust cyclone
L.P fan for cleaning
Super cyclone
Process to start flour mill business

If you want to start Atta Chakki or Flour Mill, then you need to perform lot of activities.These are like area analysis, land selection, project plan, registration, financial arrangement etc.
Area Analysis : It is necessary to analyze the area.Research is done within the area where you are planning of doing business.While area researching check how many floor mill are present ? what type of product they are making ? how much is the price of their product ? can you beat present miller or not by price ?
Land Selection: – After doing the area analysis, next comes location selection.The location should have good road facilities , water facilities and power facilities.Along with that ensure it has good ground. If you have such a location foot own land, then it is absolutely right.
Project Plan (Business Plan): – When the location is selected, then prepare your

business plan

and put all the things that need to be done inside the business. For example how much investment will have to be made, machine details. All such things should be made in the project, should be added to the business plan.
Financial Arrangement: – Once the business plan is ready, now focus on financial arrangement because nothing can be done without investment.
License & Registration: – When the investment is made, then apply for the license because registration and license is very important for Flour Mill, without this you cannot do business.
Machinery Purchasing: – After getting the license for the business, buy the machines.
Electricity Fitting and Machinery Installation: – After taking the machinery, do Electricity Fitting for them and then install the machine.
Now you can start your business comfortably with 2 to 5 workers.
Profits within flour mill business
The flour mill business profit depends on the business you have started.Because if you start basic mill , then you can earn 2 to 2.5 rupees of milling.
While Flour mill company earns more profit as they grind in very large volume and sell it with brand name.But still exact profit cannot be calculated because there are many expanses like buying grains, cleaning, grinding it and packing. After all expenses, the product is sold.
Benefits of flour mill business
Atta mill business generates good profit.There are many benefits of this business like:
High Demand (more demand): – Every Indian family uses flour in their day-to-day meals, thus single-family needs a significant amount of flour.It is a high demand business and not any Season based.
Low Investment: – Flour mill is a business that does not require heavy capital investment, you can start this business with a little investment.
Easy starting: – This business can be started easily and you can also start from your home.
Faq – Flour Mill Business
What is the cost of flour mill machine ?
There are several machine models and price depends on the machine function.However based on Indiamart research we found below machines category :
Box type Flour Mill – Price Rs 9000/Piece to Rs 21000/Piece
Pulverizer Flour Mill – Price Rs 14000/Piece to Rs 59000/Piece
Stoneless Flour Mill – Rs 7000/Piece to Rs 65000/Piece
How to open a flour mill ?
You have to obtain the permits and licenses from the govt of India.The govt will inspect and approve your business for starting the Flour mill.You need some basic requirements and investment ability.
How does a flour mill work?
Unlike small atta chaki,they do it in large volume.Grains are purchased from farmers and then stock it in their godown.Later grains are cleaned to process for grinding.When fully mashed , it is packaged for selling.
Is flour mill a good business?
Yes,it is a high demand business and people need flour on daily basis.You can earn very good amount of profit per month.This is one time investment and later expanses are very low for maintenance.
Which is the best flour mill in India?
There are number of reputed brands in India.Some of them are :
Aashirvaad Atta
Laxmi Bhog Atta
Annapurna Farm Fresh Atta
Fortune Chakki Fresh Atta
Organic Tattva Wheat Flour
Shakti Bhog Atta
Nature Fresh Sampoorna Chakki Atta
Who can start Atta Chakki business ?
Anyone can start the business with valid license and permits.
Other business you may like :